CYCLONE VACUUM DRYER
Evaporation at a lower temperature makes it possible to get a high quality end product. In addition the high rate of heat efficiency results in the best drying performance in the world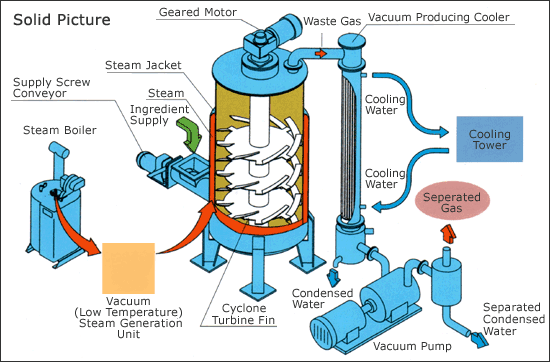 Characteristics
As the system operates by creating a thin layer of the ingredient together with a high-speed contact with the heating panel, it is possible to employ vacuum (lower temperature) steam.
Vacuum steam dries loaded ingredients at lower than 40 deg.C., and also:
* does not destroy vitamins
* does not destroy bacteria
* does not deteriorate protein.
Even though a difference in temperature exists between vacuum steam and the inside of the shell, the high-speed contact of the ingredient with the heating panel makes heat transfer possible. This heat transfer means that efficiency is three times that of traditional dryers.
The drying process is greatly accelerated due to the fact that the loaded material makes contact with the heating panel in the form of a thin layer.
Remarkable energy saving can be achieved with high-speed drying.
High heat efficiency takes place in a super-compact apparatus.
Vacuum drying does not cause the emission of any exhaust gases or hazardous smells.
The wide drying range of the apparatus means that an extensive variety of materials can be processed, ranging from liquids (moisture content 99 – 10%) to powdery materials (10 – 0.05% moisture).
The moisture content of the end product can be easily adjusted.
Compared with apparatus employing a warm-water vacuum system, the cyclone vacuum dryer is enormously more efficient (up to 10 to 20 times).